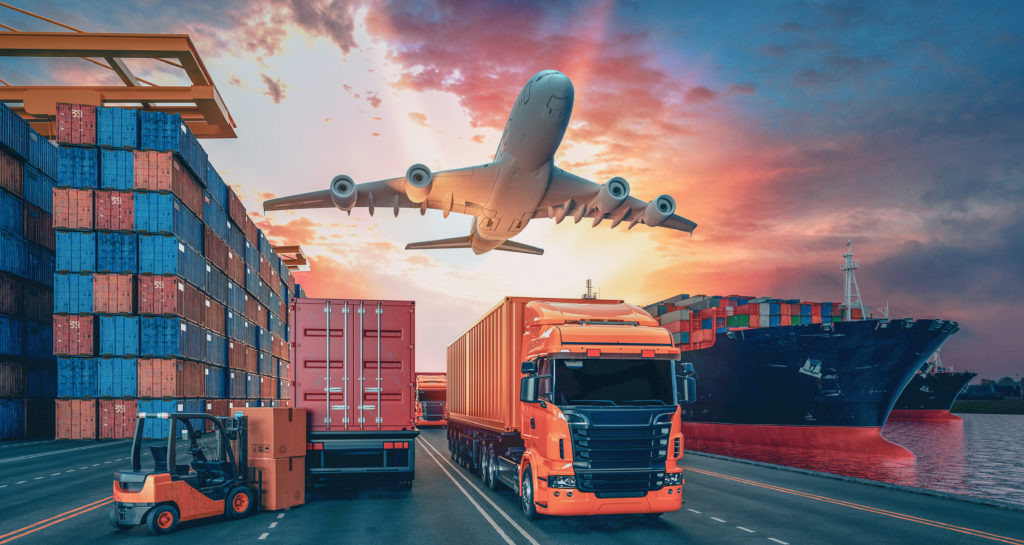 The world of trade is interconnected. In fact, everything is connected through a vast network of social media platforms, websites, media sites, and, when it comes to our exported and imported goods, through a network of supply lines and international trade. As the world is watching carefully for the developments of the virus that has already altered life for many, these supply lines are a big part of keeping things moving. The outbreak has, of course, impacted global supply chains and so we thought we'd take a look at how we play a role in all of this.
Many might look back at the beginning of the outbreak with some curiosity, as frenzied buyers began fighting over the rolls of toilet paper in the grocery stores and shoppers rushed to stock up on canned goods and food. People feared that the supply chains would be completely disrupted, preventing people from accessing the goods they need. The good news is, that the domestic supply lines are still running and goods and products are still being transported throughout the country. 
Changes in the World of International Trade 
As experienced and licensed customs brokers, we handle all types of customs movements such as imports, exports, freight forwarding, and more. Every day, we deal with the international markets and the complex web that connects all of the world's consumers and producers. We help U.S producers sell their products across international borders and do so efficiently and with full compliance with all customs laws here and abroad.  As word of the COVID-19 virus began to circulate, the world of export and imports began to see some changes. The world turned its head to China and suddenly realized just how interconnected we really are, as many U. S products are, in fact, imported from the country. 
Common Chinese Exports
There are a lot of products that we use in our everyday lives that come from China. You might be holding that device in your hand right now, as there are many production sites of Apple products and more in the country. In February of 2020, Apple announced it already expected its quarterly earnings to be lower than previously expected. This is partly because of a constrained global supply.  The activity of Chinese manufacturing plants fell since the beginning of the virus spread and will likely do so for a few months. Some of China's main exports include:
Electrical machinery, equipment  ($671 billion)

Machinery including computers ($417 billion)

Furniture, bedding, lighting, signs, prefab buildings ($99.5 billion)

Plastics, plastic articles  ($84.4 billion)

Vehicles (74.4 billion)

Optical, technical, medical apparatus  ($73 billion)

Knit or crochet clothing, accessories (71.4 billion)

Articles of iron or steel ($69.6 billion)

Clothing, accessories (not knit or crochet) ($66.8 billion)

Toys, games ($62.8 billion)
In the past 18 years, China's importance in the worldwide markets has increased dramatically. And perhaps this is why more countries around the world will feel the China markets drop. During the SARS epidemic of 2002, the effects on China's transportation and manufacturing industries were not as big. Experts are projecting then that the effects of Covid-19 will be much broader because of the scope.  Many suppliers around the world receive materials from China which affects about 17,600 finished products. 
At the same time, The U.S also does a lot of trade with China. This means that we have some major exports going into that country as well. In 2019, according to Market Watch, U.S exported 120.3 billion in goods to China in 2018 including transportation equipment, computers and electronics, chemicals, machinery, oil and gas, crops, and more. 
Products From Every Corner of the World 
Today's global economy is far more interconnected than ever before. Consumers today are used to seeing products from every corner of the world. It's why you can go to your local grocery store and find products from Japan, Germany, or China. All of these exports and imports provide more choices to consumers across the globe. If a country is importing too many products as compared to its exports, this might end up affecting the country's currency. 
While Global Trade is in Decline, Supply Lines are Vital 
And while the production of some computer products or other manufacturing has largely ceased, the production of food both domestically and abroad has continued. After all, maintaining the supply lines open is vital to the ability for societies to fight this pandemic. There have already been new measures set in place with countries like United States, China, Colombia, Canada, Brazil, and other WTO (World Trade Organization) members when it comes to the trade in Covid-related medical products, cutting import duties, curbing customs-clearance burdens and flexibility in licensing and approval. All of these measures should help and/or facilitate the movement of goods during these chaotic times. They also help make these goods a little more affordable for domestic consumers. 
In these trying times, keeping supply lines smoothly running will be a major part of the worldwide effort to battle the virus. Countries have already ramped up the production of certain medical products like masks, gowns, and gloves. Trade is a big part of the effort and any worldwide effort to improve the response to the virus by ensuring that countries are able to get the medical supplies and necessary equipment they need. According to some data, the average applied import duty on all Covid 19 medical supplies is 4.8% to 11.5% and about 17% for hand soap. No country today is completely self-sufficient and trade allows for the ability of necessary supplies and equipment to continue flowing and get to where it needs to go. 
Where We Come In — A Trusted Brokerage 
As we operate in the world of trade, exports, and imports, we are operating to serve people and businesses needing to continue their product trade in and out of the country. Here at Cordova Brokerage, we are on top of changes that happen in the world of customs and imports and exports. We ensure that we comply with all of the customs regulations and the ongoing changes to the trade policy that might happen during this chaotic time.