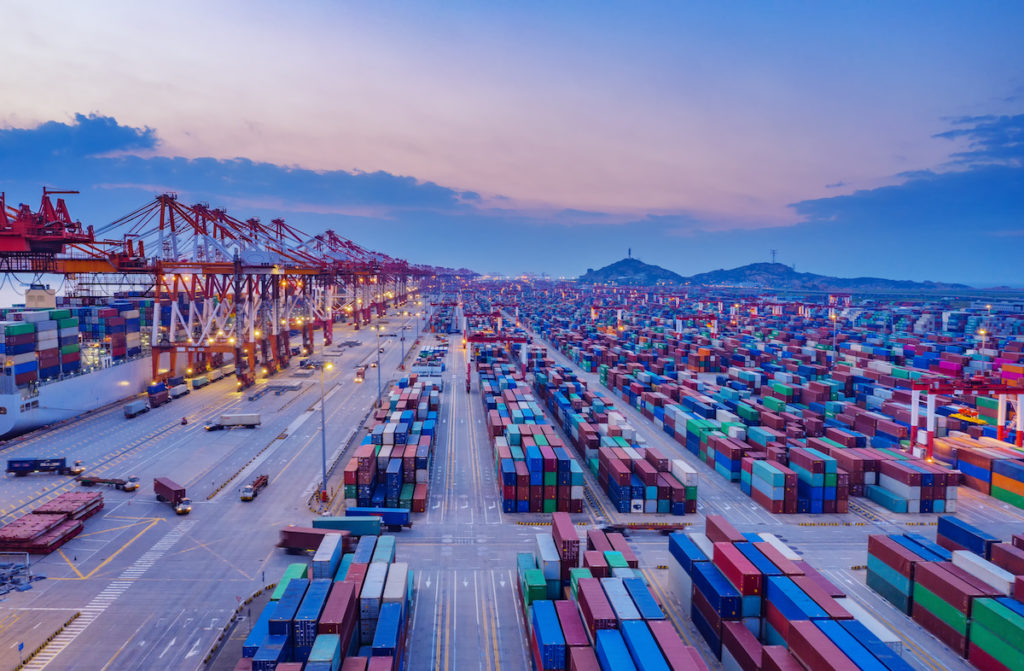 The United States wasn't always a powerhouse of exports. For some time after World War I, the U.S maintained a rather isolationist policy and was largely content to produce everything domestically. The first part of the 20th century looked very different in terms of international imports and exports.
Woodrow Wilson once said, "Britain has the earth, and Germany wants it." A very true premonition of what was to develop throughout the rest of the twentieth century with two major world conflicts that would change the dynamic of international trade forever. So we thought we'd take a historical look at how America became an economic superpower and some of the major events that changed the way we do imports and exports. 
The United States would not enter World War I until after the conflict had been raging for almost three years. President Woodrow Wilson had initially pledged neutrality and it wasn't until Germany got a little over-aggressive in international waters and sunk American liners like the Lusitania. As America sent its first wave of troops, the balance of power was already tilting from Britain to America.
In 1916, Britain bought more than a quarter of engines for air fleets, more than half of its shell casings, two/thirds of its grains, and almost all of its oil from foreign suppliers. America was the largest. Back in the States, this was slowly giving the American economy a boost and spearheading what would soon turn into a massive mobilization for production, factories, steel mills, and more.
It wasn't long before American farmers were overproducing to send to Britain's soldiers, factories were manufacturing to send steel supplies, and more. The economic potential of the United States all of a sudden became too apparent to politicians domestically and abroad. 
As the war raged on, American production became more and more important to the Ally effort. Once the war was over and the world had to sit back and reflect on what it had done and what had happened, international trade and the economy had certainly changed. During the decades between the two world wars, the Great Depression and learned to slowly revitalize its economy. Complex relations between nations would entangle the situation even further as countries like France, Britain, and Germany scrambled to pay off their debt, rebuild their societies, and re-strengthen their economies.  
The Home Front During the Second World War 
It would be about twenty years later that the world would see global conflict once more, but the signs of these changing economic powers began appearing as early as the 1930s when prominent leaders like Winston Churchill took note of Hitler's economic ambitions. One the war broke out and the United States entered in 1942, the demand for the production of war materials skyrocketed overnight. Because the U.S mainland was not being bombed or invaded, America had its vast lands for production capabilities. 
What had been a steady flow of agricultural exports, for example, shot up and this increase continued for at least forty years. The American farmer was producing goods for people at home and soldiers abroad who needed an incredible amount of supplies and food. Hogs, poultry, eggs, dairy products, and vegetables were the top priorities of the agricultural export industry. 
The United States production during the war was massive and put people that had been out of work for some time right back to work, including women who had largely been discouraged from the workforce in the past. Here are some amazing facts about American production power during this time:
America produced and provided over two/thirds of all the Allied military equipment produced during the war. This included:
297,000 aircraft

193,000 artillery pieces

86,000 tanks

2 million army trucks

41 billion bullets

2.6 million machine guns 
All of this catapulted America into a prominent place in the world's economy. In 1939, a few years before the war, the U.S was the 39th largest economy. In just a matter of years, it was number one.  
American Exports Today 
Today's international markets look a lot different than they did following World War II. Slowly but surely all of the devastated countries recovered and regrew their economies. This includes Germany and Japan who had been absolutely devastated both in infrastructure, jobs, loss of population, and not to mention credibility on the world stage. Countries like Britain, however, never fully recovered to the empire status, of course. The United States became a powerhouse economy, driven by innovation and the ability for mass production. Today's U.S major exports include:
Commercial aircraft

Industrial machines

Semiconductors 

Electric apparatus 

Telecommunications 

Medical equipment 
Even though the international trade landscape has changed in 2020, given the economic impact of things like the pandemic, here at Cordova Brokerage, we continue to support and guide exporters and importers looking to trade in the international markets. Connect with us today and ensure that your exports or imports are in compliance and following all of recent government regulations.