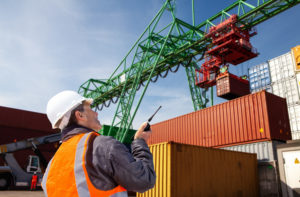 If you're in the trading business— or produce any kind of exportable good— you know that every day the United States takes in and ships out a good variety of goods to and from all over the globe. The international market is a busy network of people exchanging goods across borders and oceans. So if you are a producer or own a company that wants to ship goods or merchandise overseas, you are likely wondering whether a freight forwarder is an option for you. So how exactly do we help?
A freight forwarder actually has a lot of responsibilities and provides a variety of different services. We act mostly as an intermediary between the shipper and the transportation services. Yet, we are at the forefront of any shipping of merchandise outside of the country's borders. Some of the typical functions we perform include preparation of documents for exporting or importing, warehousing, negotiating freight charges, freight consolidation, and relevant insurance claims. 
Current Trade Numbers and Information
In 2018, according to The Balance, the total U.S trade with foreign countries reached $5.6 trillion. Out of that total were $2.5 trillion in exports and $3.1 trillion in imports. That's a lot of trade happening between the United States and the rest of the world. The U.S is the world's third largest exporter. This means that the U.S is producing a lot of goods and sending them overseas, but sending goods across countries is not that simple. There are a lot of regulations and charges in place that must be taken into consideration. There are a lot of logistical questions as well —when it comes to shipping—that need to be factored in, particularly when you're talking about large freight or a high quantity of goods. 
U.S exports are composed largely of capital goods, which include things like commercial aircraft, industrial machines, telecommunications, electrical apparatus, and medical equipment. Then there are industrial supplies, which include chemicals, petroleum products, and more. Finally, the other category of goods exported by the U.S are consumer goods, which can include smaller consumer products like cell phones, gem diamonds, and etc. 
Choose a Trusted Freight Forwarder
A lot of what we do depends on relationships that we've established with shippers over time and how we have established ourselves as a trustworthy and competent partner. You want your goods to be handled with care. Call Cordova Brokerage today for all your shipping needs.